We now take a summer break, back late  September, however we are pleased to present the following film in support of local Ukrainian refugees and their host families. Please join us.
Olga
Sunday 17th July at 7pm. Doors from 6.30 Tickets £6.00
Switzerland / Ukraine, 2022, 1hr 25 minutes, 15 Certificate
Directed by Elie Grappe, Starring Anastasiia Budiashkina, Sabrina Rubtsova, Caterina Barloggio
We are hosting an evening of welcome and support for Ukrainian refugees and host families in Thame.
Please join us.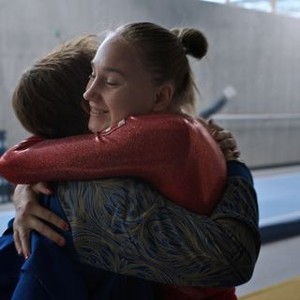 Olga is a talented teenage gymnast living with her mother in Kyiv in 2013. She is working towards competing in the European championships. Her mother is a journalist who has been openly critical of President Viktor Yanukovych, and his government's alignment with Russian interests, making her a target of violent attempts to silence her. For her safety, Olga must seek exile in Switzerland and complete her preparations for the competition there. While she is away tensions escalate in Kyiv: Yanukovych refuses to sign a treaty with Europe leading to the Maidan uprising, with Olga's family and friends taking to the streets to defend Ukraine against encroaching Russian influence.
It is a story of a young woman exiled from her home country, having to watch what is happening on computers and mobile phones, having to deal with people who don't understand what is happening back home, and having to decide between her career and her national and political identities.
Anastasiia Budiashkina, an athlete and gymnast, stars as Olga in a defiant and powerful portrayal of an ambitious young woman whose life is upended by political revolution; as so many Ukrainians currently find themselves in exile, it is also a timely and resonant story which contextualises current events against the background of recent Ukrainian history. 
The film is spoken in a variety of languages, including Russian and Swedish and will have Ukrainian and English subtitles.  View the trailer here.
Join us for an evening in support of Ukrainian refugees and host families in Thame and bring a Ukrainian flag!